If you are like me, you have collected hundreds of freebies and activities from blogs. I have quite a collection of holiday-themed games laying around now and I wasn't really sure how to store them. I keep all my centers in 9x12 envelopes as many of you do. I'm not sure if this is my favorite way to keep all the pieces together but it's not not working so I'm sticking with it.
While I was at Target today I found the cutest containers.
They are chevron stripe containers that are big enough to fit a TON of my activity envelopes.
I've been obsessed with chevron stripes lately so I bought one to try it out. I always regret buying just one container...I'm already planning my trip back to get more.
I plan on having a container for Sept/Oct, Nov/Dec, Jan/Feb/March, April/May/June so 4 total. There is room for a ton of envelope activities & seasonal books, and manipulatives on the side. All of my seasonal materials will be off my shelves and out of the filing cabinet which will open up some room. I can also store these in my basement easily and just switch them out every few months if I get moved back into a closet room. These would be great for science units or themed units as well.
On a completely different note, I know many teachers have laminators at home. I have the scotch thermal one and I love it but the pouches are expensive.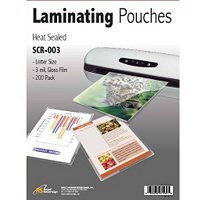 These are at Sam's club - 200 pouches for $20! I actually bought a different brand but they were the same price for 200. If you have a membership, it's worth checking them out!